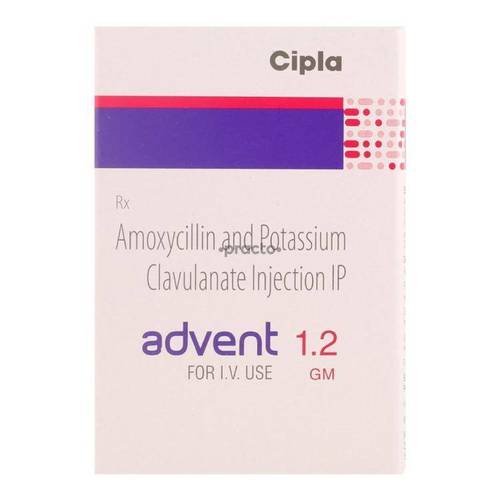 Product Description
Amoxycillin and Potassium Clavulanate Injection:As a penicillin' antibiotic, Advent Injection treats' bacterial infections. It interferes with the synthesis of cell wall in a bacteria and stops it' from growing. It is used to treat infections of the lungs and airways, skin, middle ear, sinuses, and the urinary tract. It also treats conditions like tonsillitis,pneumonia,bronchitis' and gonorrhoea. Advent 300mg Injection when used with an antibiotic clarithromycin, it treats stomach ulcers.

You should not use amoxicillin if you are allergic to any penicillin based antibiotic. Amoxicillin can make' birth control pills less effective so ask your doctor about using non hormonal birth control to prevent' pregnancy' during the treatment. Tell your doctor if you are breast-feeding a baby as it may cause harm to the baby. To make sure amoxicillin is safe for you, inform your doctor if you have' asthma, liver or' kidney disease, mononucleosis, a history of diarrhoea caused by taking antibiotics; or food or drug allergies.

We have all strength of Augmentin Injection & in generic also availabel.



Contact Us
416, Apple Square, Nr. Swastik Plaza, Yogi Chowk, Surat, Gujarat, 395006, India
Phone :+918068342773